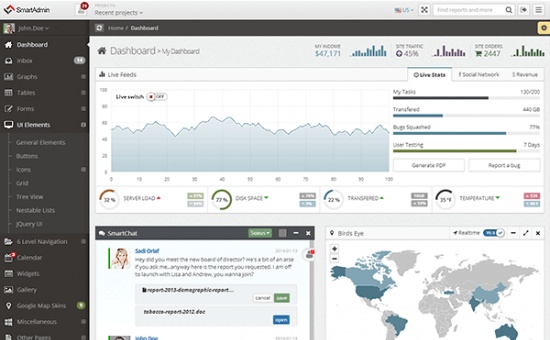 SmartAdmin in an advanced UI Bootstrap 4 Admin and Dashboard – is built for the next generation. Its' exceptional design contains vast collection of assorted reusable UI components integrated with latest jQuery plugins optimized to suit every modern web application project worldwide.
SmartAdmin is a responsive admin dashboard template built with Bootstrap Framework and it has a huge collection of reusable UI components and integrated with jQuery plugins also.
SmartAdmin WebApp - goes beyond the ordinary admin template. Its unique flat design and responsive layout is crafted one of a kind. SmartAdmin comes with 5 different versions: Pure HTML, AJAX Version, PHP version, Modular AngularJS, and ASP.NET MVC5 versions.
SmartAdmin also adds flavor to 40+ customized jquery plugins including 5 unique plugins (exclusively catered for SmartAdmin). SmartAdmin Layout API lets you customize your project for almost any device - be it Mobile, Web or WebApp - SmartAdmin has you covered!
SmartAdmin can be used for applications(CMS, CRM, Custom Admin Application, Admin Dashboard). SmartAdmin template works on all major web browsers, Desktop, iPhone, iPad, Tablet and is any smart phone friendly.